Global Interviews
Nelson Gonzales, Philippines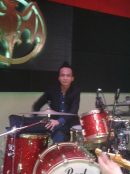 1) What does jazz music mean to you? To your community?
Jazz is freedom. Jazz brings and creates life, touching the very strand and core of the individual. Jazz is about empowering man to communicate his soul, let out his tale of struggles, triumph, his values, his visions, his dreams. To me, Jazz is more than music; jazz is what I breathe day-in, day-out; I sleep in it; I learn it; it feeds me, feeds my soul. Jazz makes me a better man, a man trying to renew the appreciation and the true meaning of jazz, and its endless potential for a new generation.
2) Why are you celebrating International Jazz Day? Why is it important?
To be able to celebrate with the rest of the world is important to me. I live in a country where jazz is considered high-brow, music only for the rich; to some, it is just elevator music, unheard of, a difficult medium. But to the jazz artists here, jazz is life; it is a commitment. I intend to break these old beliefs, and to share jazz with a wide variety of people, showing them that jazz is not exclusive, that jazz is for everyone, and that music is for all to be shared. Putting jazz at an International level may shed a much needed light, in order for this music to be appreciated on a broader scale.
3) What do you hope for in celebrating this Day?
I wish and hope to communicate to an entire country, or perhaps the entire world, that there is magic and genius existing in the Philippines. There are many brilliant musicians and artists who are not recognized, even locally. I tend to break old beliefs and negative connotations related to the local jazz scene here. I want to break the hate culture that exists and foster a better idea of a community. I want to be able to support new and emerging talents, to give a chance for the older generation to play their heart out, and to give due recognition to the jazz legends for their extraordinary work and contribution to Filipino Jazz. I hope that more people will be interested in jazz and will be open to learning it. I have seen it happen in my small place, where strangers to jazz music walk out of my doors inspired and wanting to learn how to play.