Global Interviews
John Taylor, United States (2016)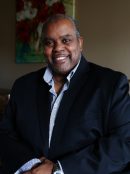 1. What does jazz music mean to you? To your community?
When I'm listening to jazz the freedom expressed in the music transfers to and transports me to a place of tranquility and peace. It frees my spirit and my mind and allows me to both experience and embrace the moment. I am very thankful for jazz and the people that perform it.
Our Community: Through the hard work of several organizations and people, jazz has become a go-to music here in Tulsa.
When someone mentions Oklahoma or Tulsa it brings to mind country, rock, or indie music but jazz has deep roots here and it has not only made a major impact in the music scene but is a requested music choice of new establishments looking to provide live music.
There have been several influential jazz performers from Oklahoma such as Hal Singer, Barney Kessel, Jay McShann, Chet Baker, Jimmy Rushing, Howard McGhee, and Frank Mantooth, just to name a few. Jazz is a big part of our state and our heritage, we believe being involved in events like International Jazz Day will help keep it that way.
2. Why are you celebrating International Jazz Day? Why is it important?
Right now jazz is a growth music, by that I mean we have an opportunity to reach a whole untapped generation with this wonderful music and International Jazz Day is an incredible awareness tool. Here at TulsaJazz.Com jazz promotion and greater public awareness is part of our mission, which has provided increased opportunities for both venues and performers. It is an absolute joy to be a part of this celebration!
3. What would you like to see happen through this day – short term and long term?
Short Term: I want the world to see how this wonderful music can bring unity to people from different countries and backgrounds that it's possible to truly come together for a common cause. We need this in the world right now.
Long term: To see jazz take its rightful place in mainstream music and for the masses to fully embrace this incredible music and its fantastic performers.
John Taylor is the President of TulsaJazz.com, a jazz promotions company in Tulsa, Oklahoma, USA.