Global Interviews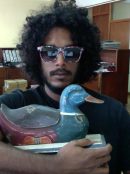 Gavin Poonoosamy, Mauritius
1. What does jazz music mean to you? To your community?

I am a Music addict and been trying to work my way out of it for years. Obviously, Jazz as one of its beautiful forms did not help me at all.
I feel that to describe Jazz is to describe Music or Art and hence can find, to the extent of my humble experience, two points where it distinguishes itself from other umbrella idioms: the organisation of space and time for spontaneous collective creativity to be explored during a performance and the uniqueness of any performance as each context brings along a specific chemistry.
Else, Jazz kills me thanks to the laborious research in polyrhythm, melody, harmony, gravity, intensity and how complex the simple may be or when simplicity is the key.
For the Mauritian audience, unaware mostly, it is slowly buzzing in as our curious manifestation of Music focused on Jazz is getting media attention but I feel that in their consciousness Jazz seems to be an inaccessible and elitist branch of music and most local media interventions have to deal with neutralizing these beliefs. The problem is unless one reaches to listen to what is really happening at a musical level, it will be hard to understand the subtleties that make the beauty of the form/s and that is very much up to subjective realization.
Now, we have those initiated to music listening and even if they are perhaps ten thousand over a population of 1.3 millions to date, they are slowly getting connected to live performances of local creators and am counting on reaching closer to them in the future. The International recognition of Mauritians like Linley Marthe, Jocelyn Pitchen, Jean Paul 'Bluey' Maunick and Jerry Léonide over the years, along with the establishment in 2011 of The Ernest Wiehe Jazz Festival, which honors late Berklee Alumni and educator from the island, provided for a decent aura and now MAMA JAZ is bringing, humbly, the game to another level.
Else, to perform compositions live in front of a Music loving auditoire respectful of silence is usually grand for any musician. That we may bring good concert conditions and attention to details as sound and backline makes a real difference; our audience and the musicians respect that commitment from us and come to enjoy a moving experience each time and are looking forward to this bigger scale we'll be playing.
2. Why are you celebrating International Jazz Day? Why is it important?
I celebrate Jazz everyday already and since an international day was appointed, it just felt right to surf the world official initiative's strength so to push more creative Mauritian music on my territory. I, though, honestly, need to credit Jerry Léonide who was the decisive catalyst + without the beautiful technical partners, the awesome venues (Francis Thomé Auditorium of The National Conservatory for Music, Lakaz, Moka'z, La Maison Eurêka, The Caudan Waterfront) and the generous team members nothing would have happened.
What I feel is important is the global solidarity and connectivity in place to empower Art, artists and Jazz promoters.
3. What would you like to see happen through this day – short term and long term?
I want all workshops to be full of interested and curious minds, I wish for all venues to be packed (the entrepreneur speaking here), I want the musicians to have great concerts and I want the all partners and staffs working for Music and Jazz to be proud and take pleasure in the initiative. Overall, i wish for human creativity through music to shine and be recognized as valuable to the positive development of our minds.
In the long term, I hope to see continuous audience building, stimulated institutional and state support, young musicians scouting, better music performance conditions, deeper workshops, more venues, cover the whole Jazz Appreciation Month with related activities, and international exchanges.