Global Interviews
Antonio Lozoya, Mexico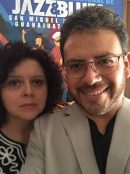 1. What does jazz music mean to you? To your community?

As a musician (bassist) and organizer of the International Festival of Jazz and Blues in San Miguel de Allende, Guanajuato, Mexico, jazz music means to me a lifestyle. It is the best way to open my mind and get in touch with people of different cultures, because jazz is a universal language and a prefect tool to promote peace, unity and harmony.
For my community Jazz means the perfect excuse to enjoy a bohemian atmosphere, good music, good time, unexpected moments and great experiences. During the concerts and jam sessions the people can feel a positive energy that make us feel part of the same environment it is generated.
In this magical and multicultural city, we have a cosmopolitan community of over 40 countries, enjoying jazz music almost every day of the year.
2. Why are you celebrating International Jazz Day? Why is it important?

We are celebrating International Jazz Day because we believe it is necessary at this time of great changes, promote unity, respect, integrity and peace. Jazz music is the best example of how to explain to the world that no matter where you come from and what language you speak, the question is to share music with honesty and humility, create a musical conversation instantly with improvisation and develop new experiences.
I think jazz music is very important for freedom of expression and this allows to change the mentality of people and have impact in the society. It´s important to don´t miss this celebration because it is a great result of the history.
The International Jazz and Blues Festival is organized along with Teresa Urtusástegui (oboist) and we work together all year long to keep this cultural event. Is the longest running in the country and produces special concerts throughout the year. The biggest festival season takes place in mid-November, this year we are celebrating 22 years! Concerts and free educational activities, gives us the opportunity to share and invite people from different parts of Mexico and the world. San Miguel de Allende in one of the most requested places to visit in the center of the country, and jazz music is one of the attractions.
3. What would you like to see happen through this day – short term and long term?

In the short term: I would like to see that jazz is family togetherness in different artistic expressions like, make murals, poetry, concerts, films, lectures, etc., all over the world.
In Mexico we celebrate from the 50's, on April 30th, the "Day of the Child". I would like to integrate into the mind of people, holding "Jazz and Children's Day" like a big celebration. Jazz musicians like children, are open to share together and no matter where you're, they just want to "play".
We have to invest time, love, education and culture in the young generations, because they are the immediate future of our society.
In a long term: If this cultural events happened often, will allow to give the message to parents and kids, the idea of world peace, tolerance, respect, education and culture. I would like to imagine a full day with activities for kids, young ones and adults with jazz music around and everybody connected.