Global Interviews
Ania Paz, Peru (2017)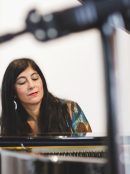 Why do you celebrate International Jazz Day?
We celebrate International Jazz Day to raise awareness of the universality and multiculturality of Jazz; to inspire to bringing cultures together through art, to innovation and to creative freedom.
Festival Jazz Lima; PUCP University Music Department; and Ania Paz Trio join efforts to celebrate the International Jazz Day with CAFE JAZZ.
With Franco Alcázar on drums, Coco Cabanillas on bass, and composer Ania Paz on piano, the Ania Paz Trio is a group with a unified vision as soloists and rhythm section that perseveres on the creation of a new sound in Contemporary Latin Jazz.